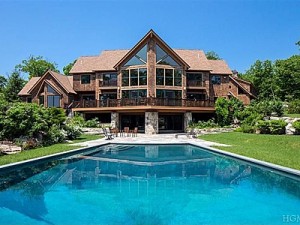 The Trophy of Sedgewood
14 Par Court, Carmel, NY 10512
The Perfect Compound with 2 Bedroom Suites!
The most majestic home in the historic Sedgewood Club is finally available. Deigned by Neta Davidie of Israel and Steven Helms of Katonah, this unique collaboration features modern materials and contemporary building techniques. Innovative styles adapted brought from Israel have been utilized to adapt the home to the unique weather and landscape of the Hudson Valley.
Such commitment to detail compelled the designer to incorporate the recycled granite, obtained from the land blasting, and feature it on the 30 foot fireplace in the living room.
Overlooking China Lake and the rolling hills of Putnam, this home is placed with the utmost care and forethought, a home that may never again be available in such an amazing location.
This home is designed for entertainment and luxury living. beginning with an open and modern foyer this home has the ability to gracefully incorporate a no step first floor master suite featuring a luxury bath, custom closet and sitting room or office adjoining the suite.
The upper level has the family in the forefront of its design process with maximum privacy and space. This clever design allows for entertainment with friends to never impede on the private sanctity of the family and personal space. Each upper level suite has a marble bath, walk in closet and adjoining sitting room to be used for reading, watching television or as an infant or young child nursery.
The top of the line gunite infiniti pool directly compliments and elegantly exists with the delicate balance of the surrounding nature. Natural vistas of the trees and lakes allow for the most luxurious spa-like experience.
As the fireplace extends to the lower level a beautiful blank canvas awaits your personalized touch. Unfinished but fully plumbed for both kitchen and bath this lower level canvas could allow you for extended indoor pool enjoyment or increased living space.
Only for the individual seeking the ultimate in luxury or the exclusive weekend retreat, this figure of modern technique and execution is the property for you.